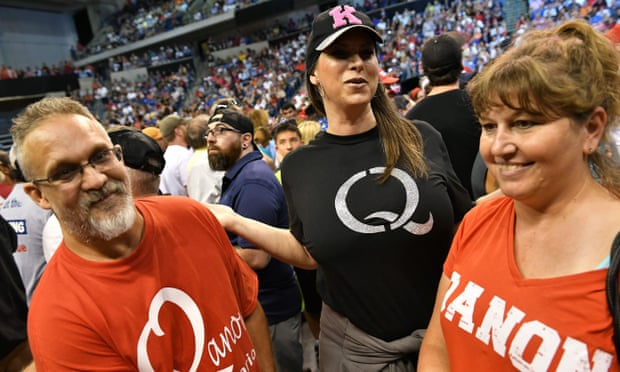 Although most Republicans voted for the resolution, it is shocking that a crazy conspiracy theory is defended by a governing political party in America:
Seventeen Republican lawmakers declined on Friday to support a measure in the House of Representatives that condemned the pro-Trump QAnon movement as a "collection of unfounded conspiracy theories."

The resolution, which passed nearly unanimously, urged the FBI and intelligence agencies to focus on the threats from fringe conspiracy groups, which have grown in mass as the election has neared. All told, 371 members voted in favor of the resolution—including 225 Democrats and 146 Republicans—and 18 members voted against it. Of those 18, 17 were Republican and one was an independent: Rep. Justin Amash, a libertarian from Michigan.
Hitler would be proud. And, of course, Qanon is anti-semitic:
"QAnon" is a baseless internet conspiracy theory whose followers believe that a cabal of Satan-worshipping Democrats, Hollywood celebrities and billionaires runs the world while engaging in pedophilia, human trafficking and the harvesting of a supposedly life-extending chemical from the blood of abused children. QAnon followers believe that Donald Trump is waging a secret battle against this cabal and its "deep state" collaborators to expose the malefactors and send them all to Guantánamo Bay.

There are many, many threads of the QAnon narrative, all as far-fetched and evidence-free as the rest, including subplots that focus on John F Kennedy Jr being alive (he isn't), the Rothschild family controlling all the banks (they don't) and children being sold through the website of the furniture retailer Wayfair (they aren't). Hillary Clinton, Barack Obama, George Soros, Bill Gates, Tom Hanks, Oprah Winfrey, Chrissy Teigen and Pope Francis are just some of the people whom QAnon followers have cast as villains in their alternative reality.